My Life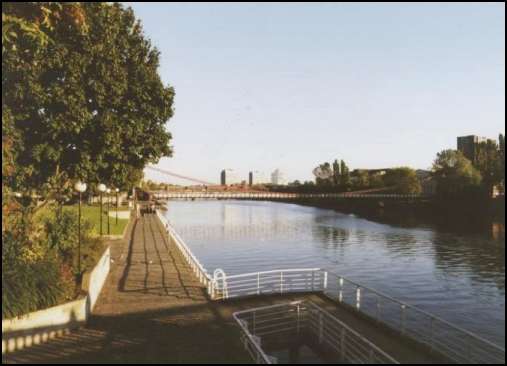 The River Clyde runs through Glasgow city centre, when I was a boy, the park and walkway on the left was a working dockside!
Despite being born and brought up in Glasgow, I've spent very little of my adult life there, but I still consider it home (well, much of the time). My Mum and Dad still live there and 2 of my 3 brothers live there.
Growing up in Glasgow is a unique experience, there are plenty of books that testify to that. And, growing up with parents from the Isle of Lewis also adds a distinctive thread to my make up as well, all that strict Free Church Sunday School upbringing. In fact, there are times when I prefer to think of myself as a Lewis exile rather than a Glasgow one.
Well, I was born in Glasgow, in the Southern General Hospital, Govan (yep, Govan born, just like Rab C !), on the 1st January 1959.
I was brought up on the South Side, in an area called Crosshill.
My first schools were Calder Street, then Annette Street primaries.
I then got a scholarship to Allan Glens School in Cathedral Street.
After school I went To college for a bit, then after a while found my self working for the Met Office, where I've been for the last 18 years or so, during which time I've worked at 12 or so locations across the UK, Europe and in the Falkland Islands, for periods of weeks/months or years, During this time I've been married and divorced.
For the last 10 years or so, I've been a born again Christian.
Currently I'm living in Lossiemouth in the North East of Scotland.
Nowadays the great love(s) of my life are my girlfriend/fiancé Catherine and her two daughters Janine and Emma, they are also from Glasgow but currently reside in Dalgetty Bay, Fife (not far from Edinburgh).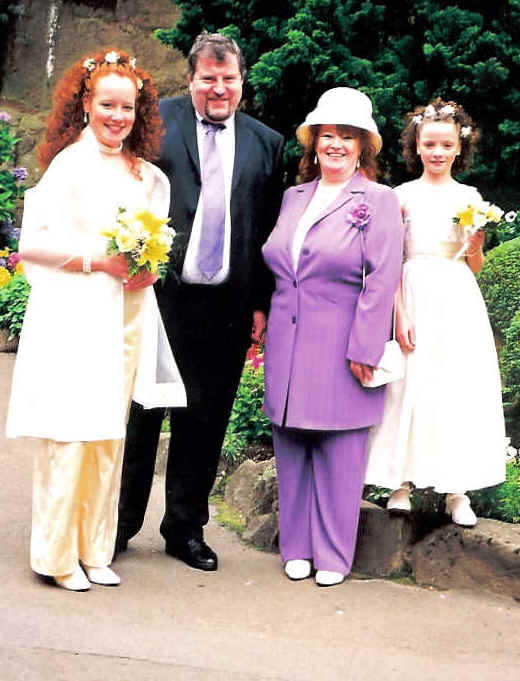 The four of us at a wedding last year, the girls were bridesmaids.
---
This page was last updated on 10/05/02 .
Angy Translate
Angy Shop

Angy Mail
Any comments, requests, questions, opinions, abuse, etc. Please feel free to mail me!

Angy visitor