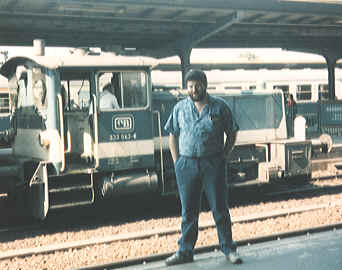 Angus goes train spotting, Münster, 1987.
As well as travel itself, I love the hardware of travel, ships, trains, planes.
Almost all my life I've lived near a railway line, and I love rail travel, it's my first choice every time. Currently I live near the Teutoburger Wald Eisenbahn here in Gütersloh and only a short walk from the DB main line. Nearby there is also a small private steam railway, the Dampf-Kleinbahn Mühlenstroth.
My father was in the Royal Navy and Merchant Navy all his working life, and I suppose some of that has rubbed off on me. As a small boy I'd cycle down the River Clyde in Glasgow to watch my dad's ship unload it's cargo, then travel upriver on the ship to where it would then berth. The most enjoyable and amazing trip of recent years was when I traveled by Royal Navy ship from the Falkland Islands to South Georgia, a 10 day round trip, absolutely wonderful! (the photos will eventually appear on my travel pages....)
Falkland Island Government Air Service (FIGAS) Islander aircraft at Stanley Airport with a British Antarctic Survey Dash-7 behind.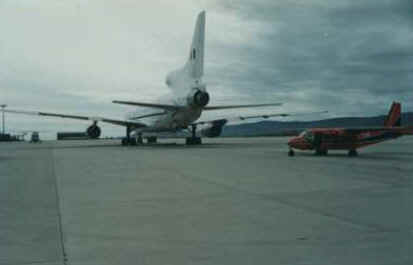 A FIGAS Islander aircraft, with a RAF Tristar and a Royal Navy Lynx at MPA in the Falklands.
This page was last updated on 10/03/00 .
My flesh and my heart faileth: but God is the strength of my heart, and my portion for ever.
Psalm75v26